What is it
A bridge is a fixed dental restoration that functions and feels exactly like real teeth. It consists of a fabricated tooth (or multiple teeth) with a crown attached at both ends. The crown at each end provides an anchor to properly secure the bridge to existing teeth. The bridge can be made of either porcelain or ceramic and will be identical to the colour and appearance of your natural teeth.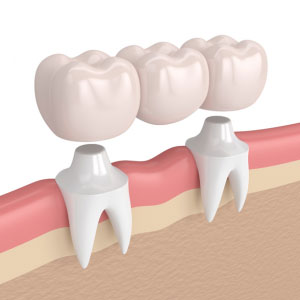 When are bridges needed, and what are the risks of not having it done
Bridges are ideal if you are missing a single tooth or multiple teeth.
Over time, the teeth surrounding the missing tooth/teeth gap will gradually shift towards the gap, which can result in misalignment of the facial structure, temporomandibular joint disorders (TMJ), negatively affect the ability to chew, cause bone loss, and increase the chances of developing gum disease.
A bridge will ensure that the forces acting upon your teeth and jaw are evenly distributed and thus prevent the above issues, while also providing a straight and complete look to your teeth.
How is it done
First, the existing teeth on either side of the gap are prepared for a crown (i.e., enamel is reshaped) so that they can accommodate the anchoring crowns at each end of the bridge.
Impressions of these prepared teeth are taken (either with iTero scan or putty, depending on the dental practice) and are sent to a laboratory.
While the bridge is being created, the prepared teeth are fitted with temporary crowns.
As soon as the bridge is delivered to the office, the crowns adjacent to the gap are cemented onto the prepared teeth.
Like anything else, your bridge can last you a lifetime if you treat it with the proper care by brushing and flossing properly, attending your regular dental cleanings and checkups, and avoiding harder foods.