What are Veneers?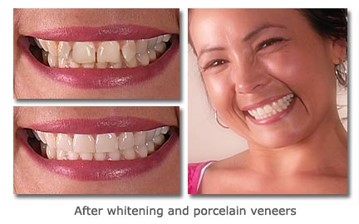 Veneers are thin shells, made of composite or porcelain material, which are permanently placed over top of a patient's teeth. Veneers are a great option for patients with misaligned or gapped anterior teeth that want to improve the look of these teeth to enhance their smile.
How is it done?
The dentist will remove a small portion of enamel from the tooth/teeth that will be receiving the veneer(s).
Next, precise digital impressions of the prepared tooth/teeth will be taken using iTeroTM digital scanning technology, which will be sent immediately to a dental laboratory to manufacture the veneer(s).
During the time that the veneer(s) are being manufactured (typically one to two weeks), the dentist will fit your prepared teeth with temporary veneers.
At your final appointment, the temporary veneer(s) will be removed and the permanent veneer(s) will be cemented into place. The dentist will ensure that you are completely satisfied with the comfort and appearance of the veneer(s).